HYDROGEN STORIES AND INNOVATION
Summary of a successful BEST4Hy workshop
HYDROGEN STORIES AND INNOVATION
Summary of a successful BEST4Hy workshop
STORIE DI IDROGENO E INNOVAZIONE, the BEST4Hy workshop held on the 9th of February to Italian stakeholders turned out a successful event with a wide audience, composed by researchers and SMEs, to address specific hydrogen issues and lead a discussion among different figures.
After the initial presentations of progresses and results of the three projects – BEST4Hy, EVERYWH2ERE, HyCARE – and the Italian hydrogen association – H2IT , the workshop moved on an open discussion with all the attendees about the hydrogen related topics of environmental and social sustainability in all life cycle steps, security and storage systems, applications such as public events and construction site.
For the entire duration of the workshop, the attendees shared their ideas and thoughts on a digital platform that, as result, gave a WORD CLOUD from which the speakers had to start a cross-related dialogue on the specific workshop topics and on needs, problems, opportunities and potentialities for hydrogen sector and its SMEs.
"What comes to mind when you think of hydrogen technologies?" we asked.
Different answers came by the attendees, such as green, safety, regulations, risk, reliability, investments, mobility, energy transition, environmental and social impact.
However, the most quoted have been SUSTAINABILITY, INNOVATION, COSTS, MARKET, DECARBONIZATION, FUTURE.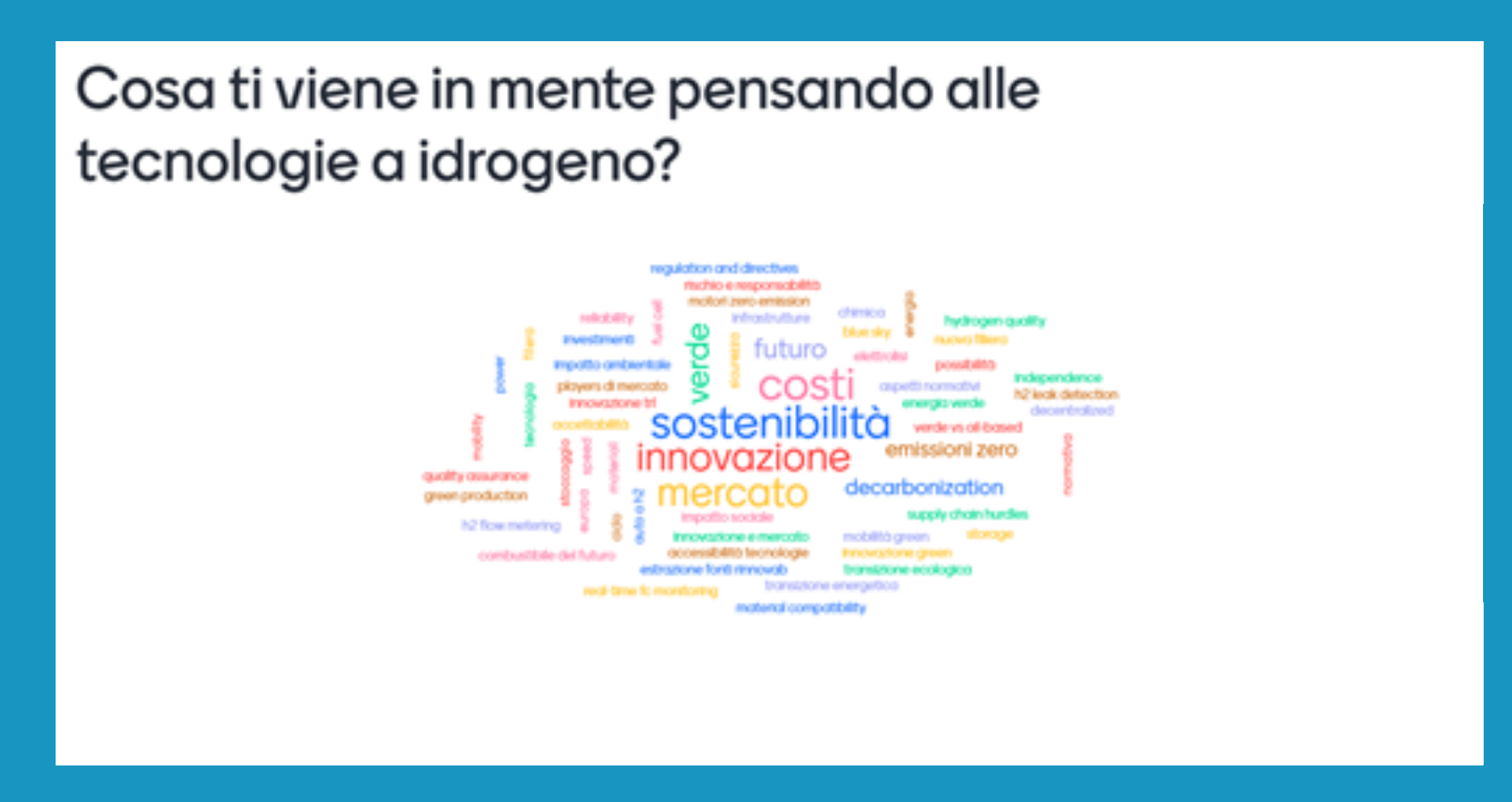 The sustainability term can be declined into the three environmental, social and economic aspects. From the environmental point of view, low greenhouse gases emissions and resources consumption are a must to be tackled during manufacturing, use, as well as End-of-Life of hydrogen technologies. A holistic approach through each life-cycle stages is essential to take into consideration the overall sustainability.
Therefore, solutions for EoL FCH and recovery of critical raw materials, as proposed by BEST4Hy, become a potentiality as well as an opportunity. Few numbers give an idea of the impacts: the production of 1 kg of primary Platinum generates 40 tonCO2 and consumes 200 GJ of energy, while secondary Platinum production reduces until 20 times its impacts, releasing only 2 tonCO2/kg and using 10GJ/kg of energy.
At the same time, the hydrogen-based gensets proposed by the EVERYWH2ERE project offer a valid and sustainable alternative compared to the traditional diesel generators: their use in public events and construction site is a way to reach environmental and social sustainability, reducing greenhouse gases emissions and increasing the awareness of the population on renewables and on hydrogen role into the energy transition. Furthermore, the hydrogen-based genset penetrates into a market section (such as construction sites) where there is demand. This brings us to another topic of discussion related to costs and market.
Green hydrogen costs nowadays about 8-10 euro/kg, meaning 4-5 times more than grey hydrogen produced by fossil fuels. This is currently a problem for green hydrogen technologies acceptance and its penetration into the market, set at 2% against 90% of fossil fuels-based hydrogen. To overcome this issue, it is important to consider the opportunity offered by the high level of innovation of hydrogen technologies and the possible cost reduction through storage and management steps, as explained by the HyCARE project. Indeed, one of the hydrogen solutions to satisfy the high energy demand can be a decentralized production with high level storage system: hydrogen is moved without using external energy from an electrolyser at 30 bar to a FCH with pressure at 2 bar, allowing the balance between Capex and Opex of the whole system and figuring out green hydrogen as a good alternative energy source with all potentialities to increase its penetration into the market.
Technologies are mature, companies are ready. What more do we need? Standardised guidelines and rules are currently a primary necessity. Until there will not be clear regulations at national and European level to guide the trade, the hydrogen sector will have to face problems to penetrate and stabilise itself into the market.
Considering the innovation and safety of the hydrogen technology at industrial scale, it is also now necessary to improve the entire hydrogen supply chain: from one side supporting green hydrogen production and R&D projects and moving towards the creation of hydrogen valleys; from the other side supporting user companies to enhance the whole system and giving highlight to green hydrogen technologies as sustainable alternative solution that meet future energy needs and decarbonisation objectives.
Latest publications and news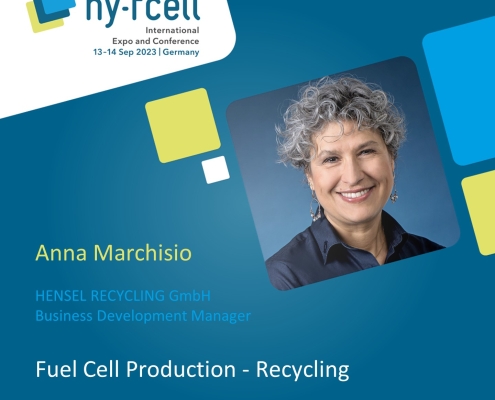 https://best4hy-project.eu/wp-content/uploads/2023/09/hy-fcell-23-Referenten_Posts_Anna-Marchisio.jpg
1440
1440
monica
https://best4hy-project.eu/wp-content/uploads/2021/04/LOGO.png
monica
2023-09-12 17:22:19
2023-09-12 17:28:36
13th-14th Sep 23 hy-fcell expo and conference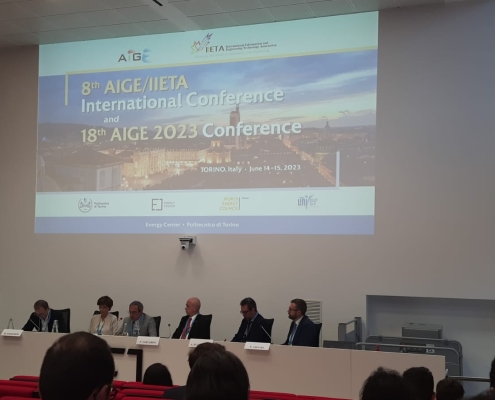 https://best4hy-project.eu/wp-content/uploads/2023/06/WhatsApp-Image-2023-06-15-at-10.37.29.jpeg
899
1599
monica
https://best4hy-project.eu/wp-content/uploads/2021/04/LOGO.png
monica
2023-06-15 14:49:54
2023-06-15 14:49:54
8TH AIGE-IIETA INTERNATIONAL CONFERENCE AND 18TH AIGE CONFERENCE